Has file got corrupt? Do not spend hard-earned money directly on data-recovery services. Just once, have a look at this comprehensive guide to recover corrupted files efficiently with minimum losses. This might help to save a small fortune.
When a file gets corrupt, it causes an immediate alarm. This is because it feels like somebody has torn the essential pages out of a book, or an unwelcome guest has entered the room without a call.
Fortunately, this condition has a counterbalance option unlike torn pages or an unwelcome guest scenario. In short, recovery of corrupt files is possible. The only prime consideration is to have the right expertise.
In this post, we highlight several simple solutions to corrupted files recovery. Further, this blog sheds light on few significant reasons for corruption and tips to minimize data corruption effects.
Reasons behind Data Corruption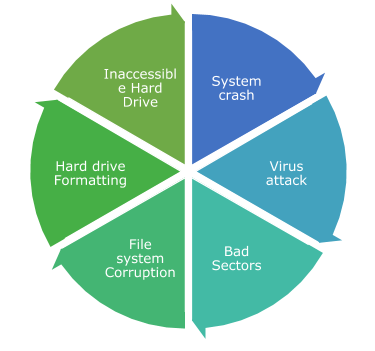 Greatest Data Recovery Hacks for Corrupted Files
First Course of Action: Run an Anti-Virus Program
One of the most straightforward DIY techniques. This approach removes the virus and solves the purpose.
Limitation: This works only when the cause of corruption is virus.
Second Course of Action: Inbuilt Open and Repair Utility
Office Documents comes with a built-in utility to fix corrupt files on its own. To use this, count on the below-stated steps:
Go to

File

Select

Open

Choose the desired corrupt document

Click on the

arrow

adjacent to

Open

Choose

Open and Repair
Limitation: This option serves the purpose in relatively minor corruption cases.
Third Course of Action: Use CMD
In several cases, the CMD works in favor to resolve the corrupt files recovery issue. Steps include:
Press

R and Windows Key

altogether

Enter the command prompt by typing

CMD

Type

ATTRIB -H -R -S /S /D A:*.*

in the console window ( A indicates the drive letter of the storage media)

Press

Enter
Limitation: Due to manual intervention, this involves data compromise issue and permanent data loss risk.
Fourth Course of Action: Repair File Structure
Sometimes, the reason for corruption is a problem in the file structure. To address this, use the following steps:
Click on

This PC

Select the drive  

Right-click and open its

Properties

Click on the

Tools

tab

Press the

Check Now

button

A dialog box indicating two options: "

Scan for and attempt recovery of bad sectors

" and "

Automatically fix file system errors

" pops up. Here, checkmark both options.

Click

Start

Click

Close
Limitation: In cases of severe corruption, it may work or may not work.
When Manual Approaches Backfires; How to Recover Corrupt Files
Fifth Course of Action: Use Third-party Data Recovery Tool
However, if these freeware options fail or do not work, the other efficient DIY approach is to run third-party data recovery software to recover corrupt files. This technique to retrieve data is safe, secure, and simple. The only challenge here is the selection of the right data-recovery software.
As a recommendation, try Stellar Phoenix Windows Data Recovery – Home for risk-free corrupt file recovery. The leading technocrats have tried and tested the software on several aspects such as security, performance, operations, etc. The rationale is this Windows data-recovery software works in all adverse scenarios including bad sectors, and severe corruption. To evaluate, try Demo version.
Note: Say No to freeware tool. Reason being, free options help in limited recovery only. Moreover, does not have Write Protection.
Tips to Minimize Data Corruption Effects:
No need to panic

Make sure to create backup of essential files frequently

Use Disk Defragmentation as often as possible (only for the case of HDD)

Evaluate the storage system as well as device health on a regular basis
The Final Word
The key to success in this or any other data loss scenario is to stop using the affected drive immediately. That is because further usage potentially overwrites the data and reduces the possible chances of recovery by causing additional aggravation.
Tips to Recover Encrypted Files from NTFS Partition
Know: Top Free Data Recovery Tools of 2018