Engineers in UK had announced futuristic yet realistic plans to develop commercial autonomous street sweeping machines in Sept 2017. They were expected to hit the streets in early 2018 but there have been no deployments yet. The developers have decided to start trials at major commercial airports and similar establishments. However industry reports suggest that real vehicles on public roads are not going to happen anytime before 2019.
According to WestField AutoSweep, the company building these vehicles, trials are about to begin at Greenwich Living Lab, Birmingham Airport, London Heathrow Airport, Manchester Airport Group, Trafford Centre, Media City Manchester soon. Trials on the autonomous sweeping units will determine their efficacy in complex situations and real-life environmental conditions. Further, after inputs from the trials, these machines will undergo improvements before they become street ready.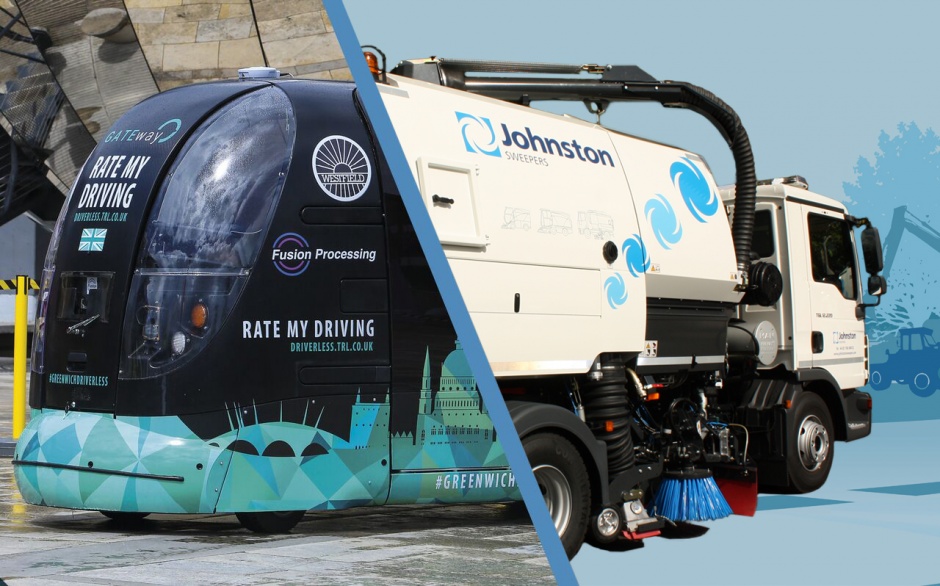 image credits : https://westfieldavs.com/( WestField UK)
How effective are these Auto-Sweepers?
The first question that arises when there is a new technology in the market is that – How effective is it? Everything sounds good on papers, but is it practically viable?
An interview with the engineers reveals that these machines are quite capable of driver-less operation and smart cleaning. That is why they are being tested in sensitive locations like International airports where the cost of damage due to runway debris runs into billions of pounds. These machines, in fact, can use advanced sensors to detect stray metal components like nuts and bolts and use magnetic methods to separate them from organic waste.
Being fully electric (possibly solar powered) these can help the United Kingdom reduce the carbon footprint and minimize dust pollution from regular mechanized street sweeping or manual road sweeping.
The UK faces a peculiar problem of Chewing Gum cleaning from the roads. We are not yet sure how this machine might help address this problem yet.
Is the technology better than driver-less cars?
Actually, there is no competition between driver-less cars and self-driving auto sweepers. Both technologies serve different purposes and their requirements vary drastically. While driver-less cars have to deal with speed, communication with other cars auto-sweepers operate at very low speeds and have to focus on garbage differentiation, cleaning at multiple sides flexibly depending on the nature of the street and its immediate surroundings.
While driver-less cars are about saving human lives from accidents caused by driver error, auto-sweepers are supposed to revolutionize the speed and efficiency of road sweeping while minimizing harmful environmental impacts of road sweeping.
The commercial impact of the Auto-Sweepers. Will they affect unemployment?
Currently, this project is funded by  £500,000 of investment from the Niche Vehicle Network, an independent association of over 800 niche vehicle manufacturers. This is a noble venture for building
Eco-freindly vehicles
.
There is not an iota of doubt that if successful, practically and commercially viable these vehicles will be used in large number by cleaning companies in the United Kingdom. So, there arises the next question – Will it take away jobs from human beings? 
Most of the cleaning work in the UK is mechanized, but still, this industry is a labor intensive game. We talked to Future Cleaning Services, the
UK's leading cleaning company
with an expertise in
road sweeping service
s in the UK. They employ over 3,000 employees at this moment. According to Future Cleaning Services, each mechanized road sweeping unit is accompanied by about 4 personnel. So, when an auto-sweeper replaces this unit 4 people may have to be engaged somewhere else.