What if we say that you can choose completely every detail when you make a purchase? And you don't even need to wait for every change for eternity. You say that it is impossible, but we say it is current reality.
Agilis Jettenders GmbH gives you a possibility to customize your luxury tender. You can choose everything from the materials and colors to the lighting system. And all of this you can do at the Configurator.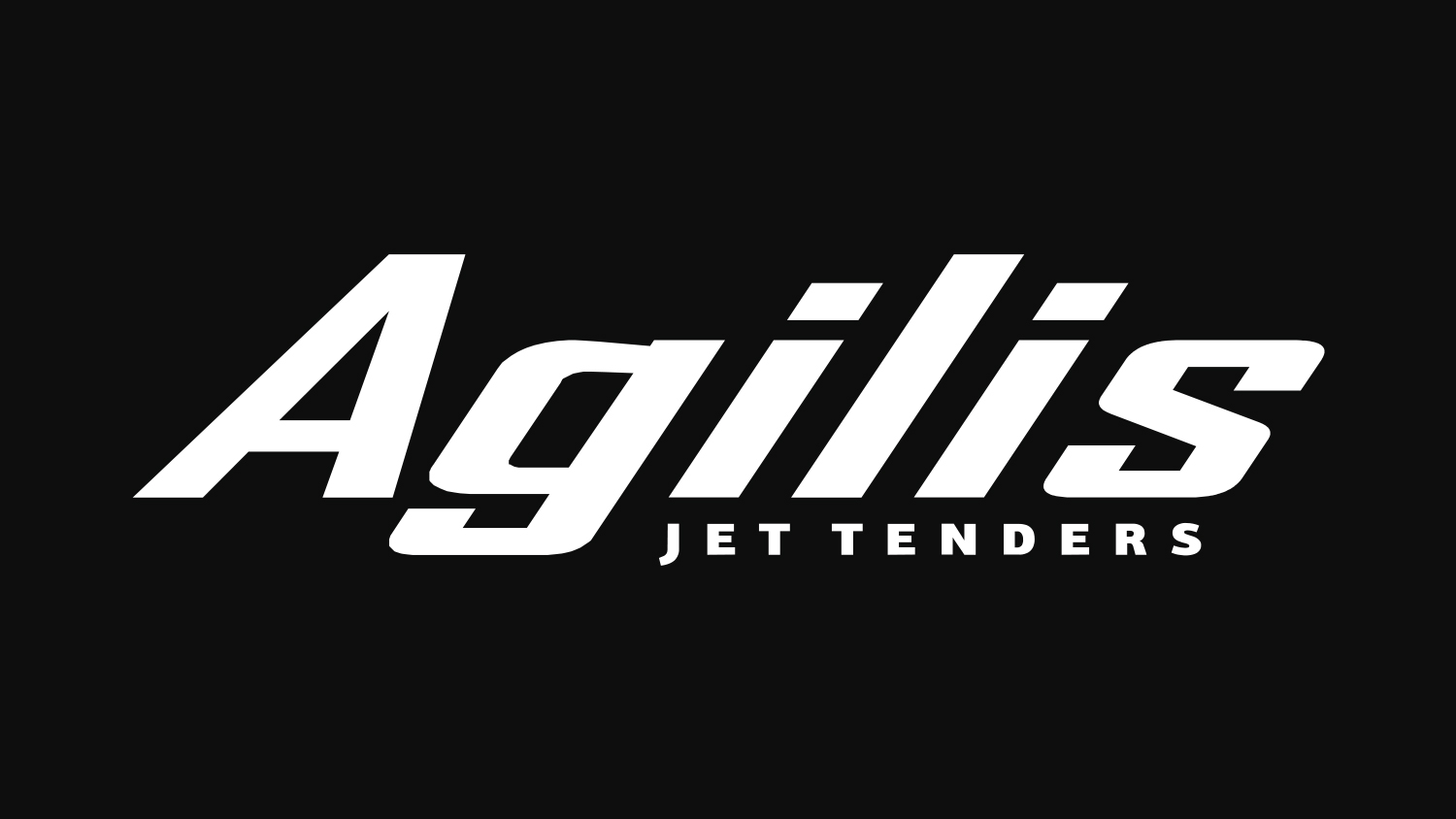 What is a Configurator
This is a project which helps clients to buy the tenders. For example, a customer decided to buy a jet tender, but he couldn't clarify which exactly it should be. So the Configurator will help him to pass by the misapprehension. The client creates the tender of his dreams confidently in a short time, because he knows that all the details, materials and gadgets are luxurious and the highest quality. He picks the colors of hypalon, upholstery, hull and other details, gadgets and selects the best lighting in accordance with his demands. Then he can share the completed result with everyone from the contact list. Isn`t it sounds like a very helpful thing?
In any other company you should speak with operator of call-center and describe which dinghy precisely you want. After receiving your template you will amend it. It is too long. But Agilis gives you a possibility to design your future tender; moreover, the Configurator has substantive benefits. Firstly, it`s a momentary quickness of actions. Second is ease of use, because the picture of tender, price and options are always in sight, and the result can be saved or share after ending. An inspiration for this project came from creating of Luxury segment cars became the inspirators for this program, and the group of professional developers and programmers put it into practice. Without them it would not be carried out. Each Everything was made for customer`s convenience at every phase. We can look at the process of creating a jet tender in Configurator.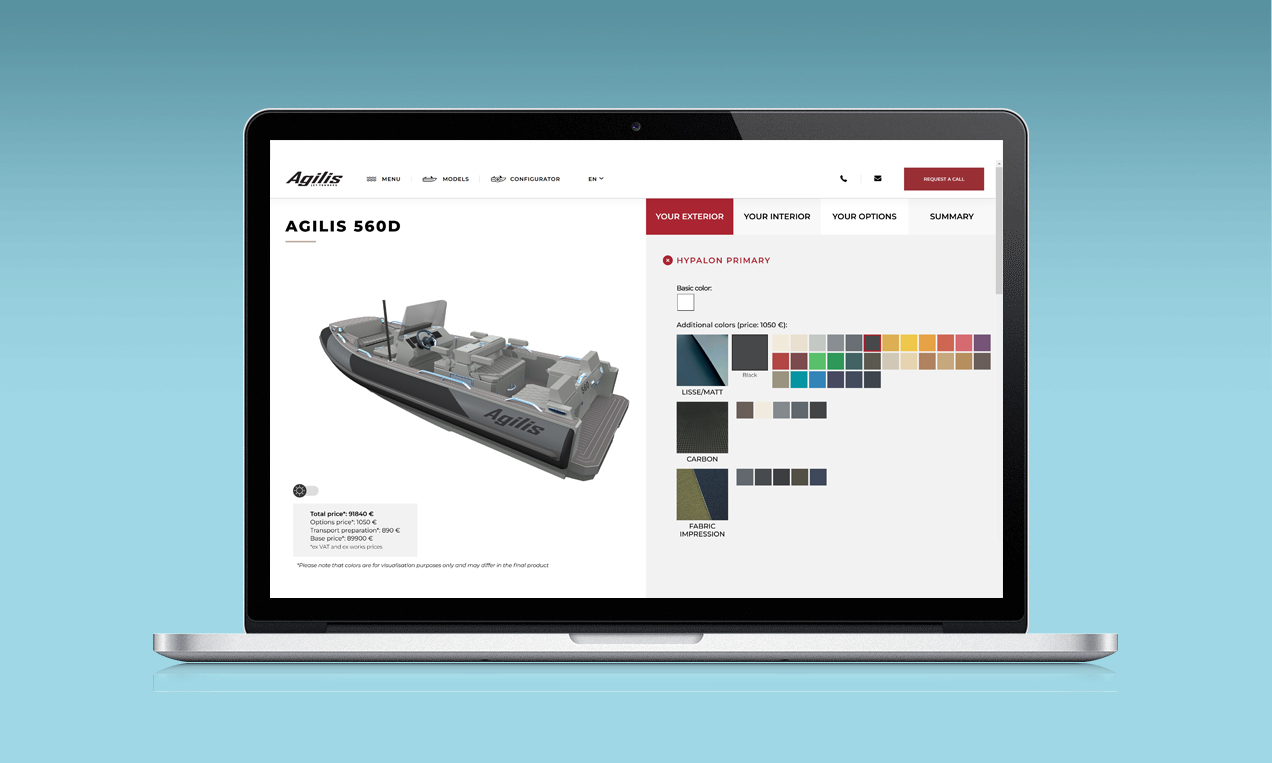 Closer look at the Configurator
Let's see how Configurator works with an unreal customer, name him Alex. He had a big yacht and decided to order a dinghy for it. After comparing all the tenders, Alex chose the Agilis 360D which met all his wishes. So he came to the Configurator and picked up the model. Firstly, our yachtsman chose an exterior of tender. There are three basic colors for each dinghy, exactly, it`s Ice White for primary, Neptune Grey for secondary hypalon and Grey for modlings. But Alex liked exquisite color palette combinations, especially when he could play and mix 45 colors. So he chose Ocean Blue Fabric Impression, Delphes Blue and Grey light for hypalons and moldings accordingly.
After that, Alex switched to the Interior. Beluga Pure white is the basic color of upholstery. Inside the icons he saw how the materials looked like. Alex chose the material of Carbon fiber in Graphite color. The Grey with White caulking is a basic tick. Alex changed to Black caulking, and satisfying moved to other options. He played and wondered how quickly change was happening. Finally, he stopped at sample 5014 for all the interior parts.
Alex moved to the Options. There are some basic devises, but he decided to add others for more functionality. Our Alex was a very friendly person, he liked big companies and nice music. As follows, in first turn, he added the Fusion stereo unit. Then he picked touch screen multifunctional display Raymarine Axiom 7 to make the trip more comfortable. Alex believed that warned was armed, so he also added a VHF system.
To see the lighting systems better, Alex turned off the light, pressing the button near the tender. He chose both OceanLED X4 x2 and LED deck lights 4x in blue color. Then Alex was deciding what accessories would be the most useful for his future boat. He picked boat cover in Admiral Navy color, lifting slings and Removable Steering wheel, after that he noticed that he had exceeded the budget. Alex doubted how to name his new tender. He liked the variant Nautilus as a Captain Nemo's submarine, but he also wanted to please his wife and named the boat Victoria, it was also the first ship circumnavigated the globe. He wrote the name into the special field.
Alex was so delighted about the speed of operations and final look of his tender that decided to share the link and PDF-file with friends and wife. He had almost ordered, but suddenly his wife called. Victoria yelled at Alex that she had just spent four thousand and needed more three to finish shopping. As a good husband, Alex sent the money to the wife and with heartache began to uncheck some options. He made caulking basic White, removed OceanLED and the VHF system. Then he deleted Victoria and named his boat Nautilus. He was still delighted with his tender, in particular at the moments when he dreamed how Victoria would reach the yacht on her own.
You can see how Alex`s tender looks like by this link:
Take a look at Alex`s luxury yacht tender
Or you are able to enjoy the Configurator and create your own luxury jet tender, just like Alex.
Enjoy the Configurator Agilis Jettenders